HeadONE v2
Pocket-sized very smart motion unit for stunning motion-controlled videos, time-lapses and much more.
What's new with v2:
⬤ Allows hand-control to set poses. ⬤ Face tracking with Phone Mode. (iOS only) ⬤ Can rotate 2x faster. ⬤ Safety lock switch.
⬤ Also: New Tilt Module v4 allows vertical camera orientation. (sold separately)
HeadONE is full of features that make it a must-have in every content creators backpack.
Modular
Design
HeadONE's design allows you to carry only what you need, ensuring your equipment is as agile as your creativity.
Pan (Single HeadONE)
Get HeadONE and use it to control your pans smoothly for nice panoramic videos, 360º photos and motion time-lapses. It is also great for repeating the same shot several times to achieve fascinating visual effects shots.
Pan + Tilt (Dual HeadONE)
When you add a second HeadONE (Tilt Module required), both devices discover each other and pair automatically in the background. This way, you can control both of them with the same App. With the addition of tilt axis, you will achieve much more interesting panoramic videos, 360º spherical photos and motion time-lapses.
Hands-On
or Remote
Intuitively set angles by hand or effortlessly command via edelkrone App.
Allows Hand-Control to set Keyposes
Manual control gives an unprecedented speed and ease to your workflow and makes the entire process much more intuitive.
Remotely control with the edelkrone App
To control from a phone, watch, tablet or Mac (with M processor) use edelkrone App.
To control from other Macs and PCs you can get Mac/PC adapter
Perfect Repeatable Motion
HeadONE and all other edelkrone motion control devices can perfectly repeat any camera motion. Add some masking magic with your favorite video editing software, and wow your audience.

Face Tracking
(iOS only)
Phone Mode enhances HeadONE with Face Tracking capabilities. Whether you're using a single HeadONE or dual HeadONEs, Phone Mode ensures that your camera (or phone) follows your subject's face with precision, and it's all done through the convenience of your phone.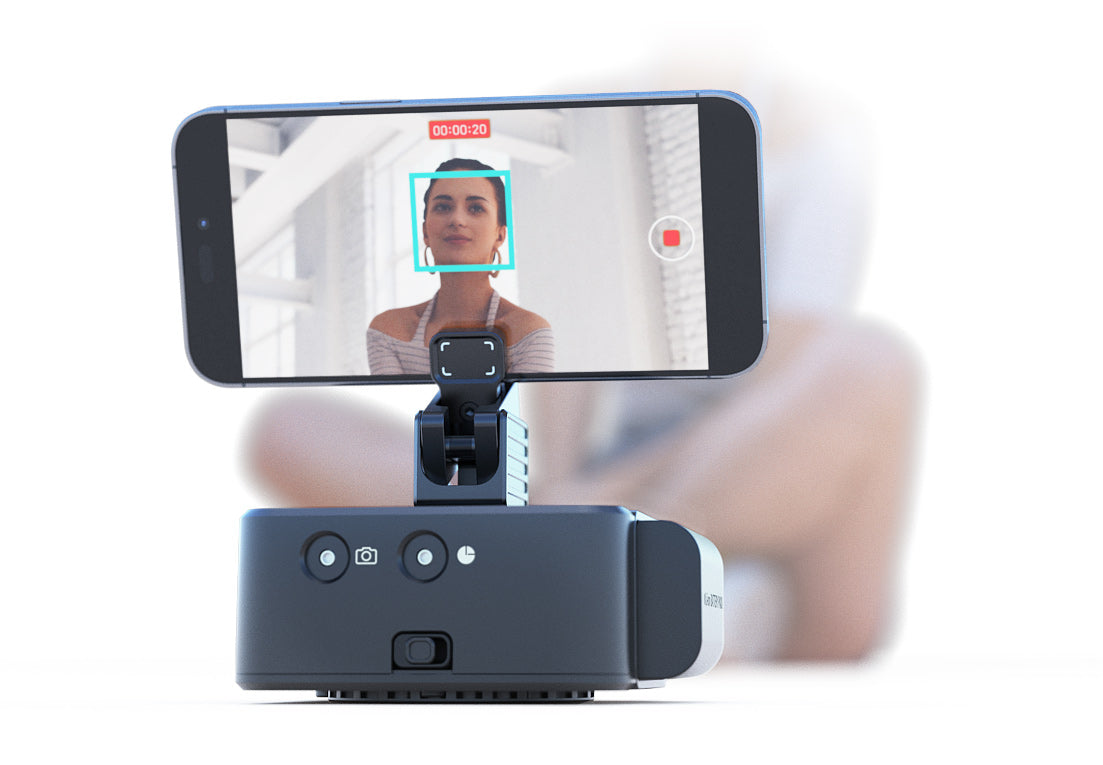 Whether you're recording presentations, hosting webinars, vlogging your adventures, conducting interviews, or capturing documentaries, Phone Mode will keep you at the center of attention.
*Currently, Phone Mode becomes accessible only when you connect to HeadONE(s) as stand-alone.
Recording directly to your phone
Simply attach your phone to HeadONE. Once you activate Face Tracking, HeadONE(s) will elegantly keep the face within the frame, delivering smooth panning and/or tilting for your phone. Both Front and Back cameras of phones* are supported in both horizontal and vertical orientations.
We recommend using an edelkrone PhoneCLIP to attach your phone.
Recording to your camera
By attaching the phone on your cameras hot shoe, you can leverage your phone's face tracking capabilities while recording to your beloved camera. Again, both front/back cameras and both orientations are supported.

360° Mode
360° mode allows you to take panoramic gigapixel photos as wide as 360 degrees. You take many photos next to each other line by line, and stitch them on the computer to get ultra high resolution and wide angle shots of any environment.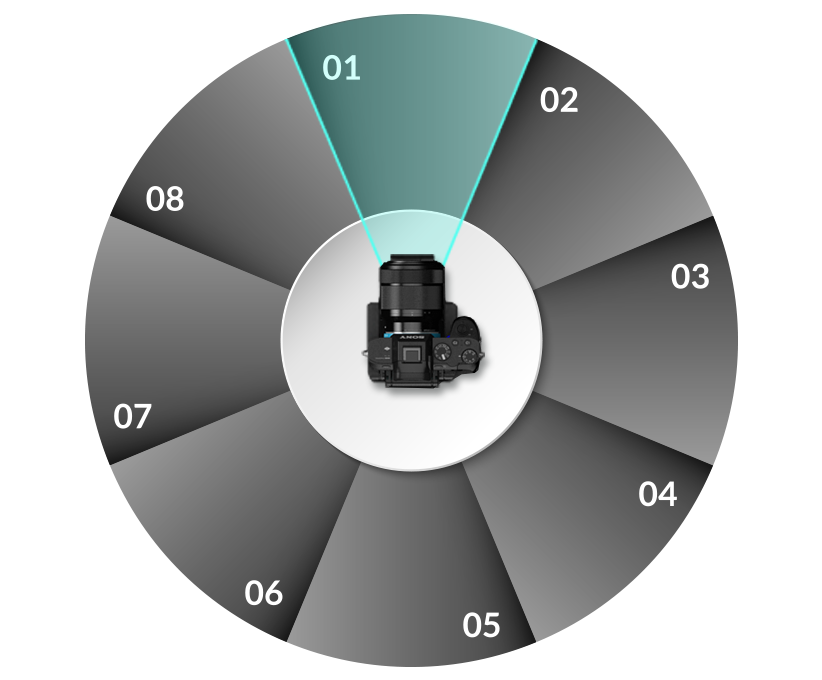 360 mode becomes accessible on the edelkrone App when you connect to either HeadONE as a stand alone device.
Add Product Turntable Kit for 360º Product Photos & Videos
Product Turntable Kit includes 2 different bases (white matte & black glossy) and shutter release extension cable. It's the complete solution for automated 360º product photography. It's also ideal for rotating product videos for packshots.
Learn More.
Built-in 360º panoramic photo mode
Just enter how many photos you need and HeadONE takes care of the rest. Giant and precise panoramic photos awaits you.
▼
No Cable Crowd
Connects Wirelessly with edelkrone Sliders / Jibs / Dollies
When HeadONE is combined with a slider, jib or dolly, you can easily program 3-, or 4-axis camera motions. You can record never-before-seen, amazing motion time-lapses and visual effects shots with any combination you choose. The devices pair instantly in the background.
▼
Super easy time-lapse programming
Setting up a motion time-lapse is the easiest with edelkrone App. In your time-lapse videos, you can have a simple transition between two keyposes or you can convert a recorded complex camera motion into a time-lapse with a single button.
▼
Controlling
Options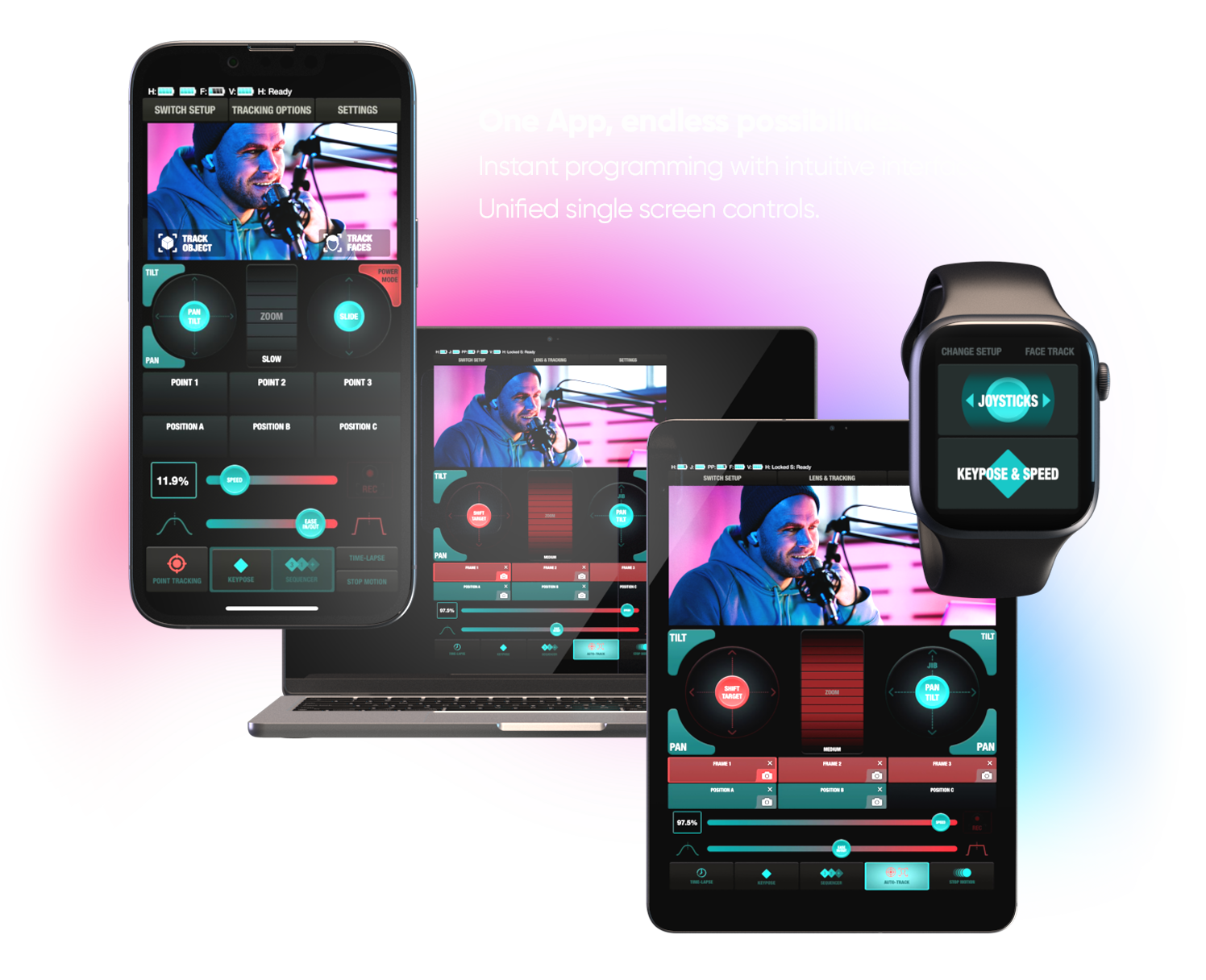 edelkrone App
The edelkrone App stands out as a comprehensive and intuitive control platform, designed to seamlessly and wirelessly control all edelkrone devices from both Apple and Android devices. Learn More.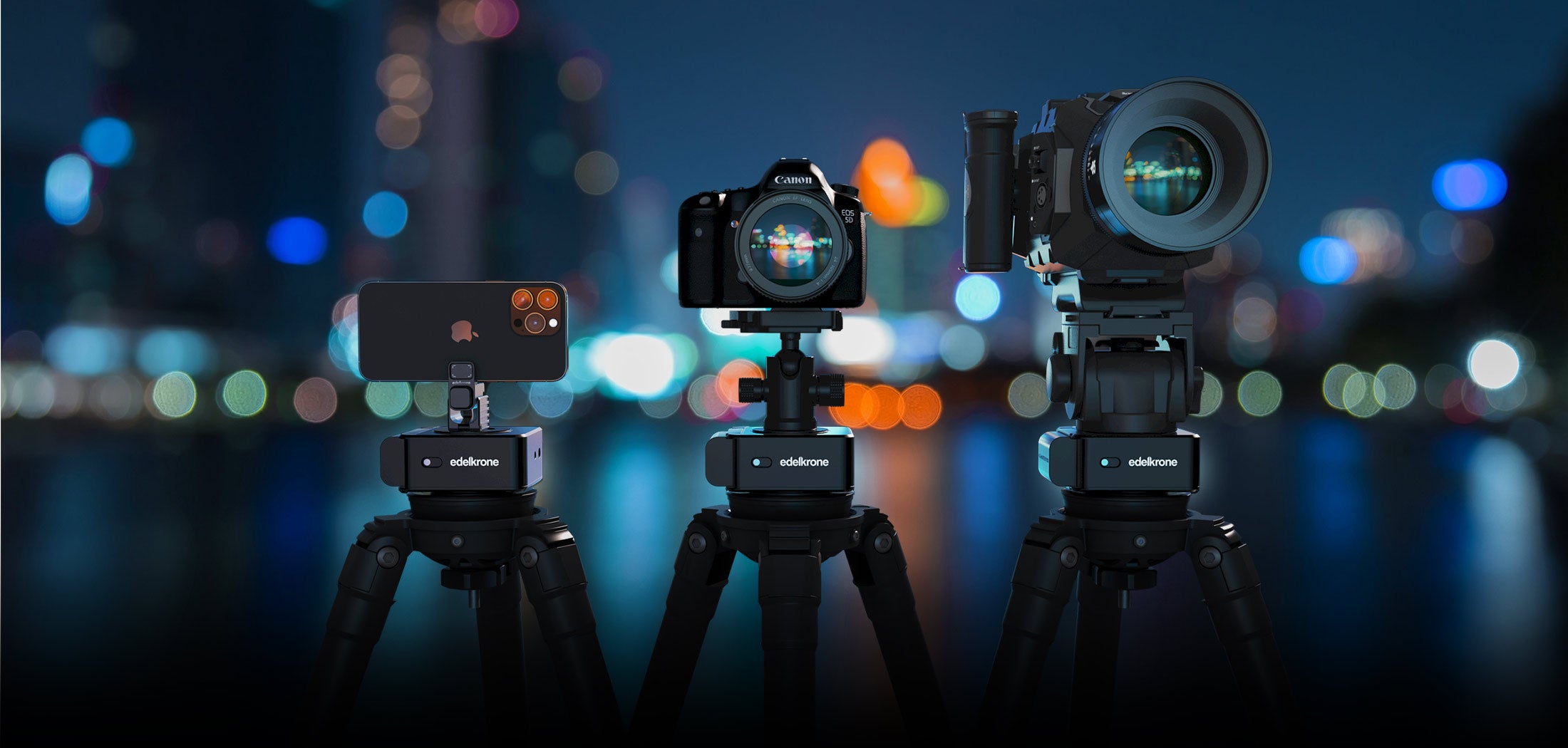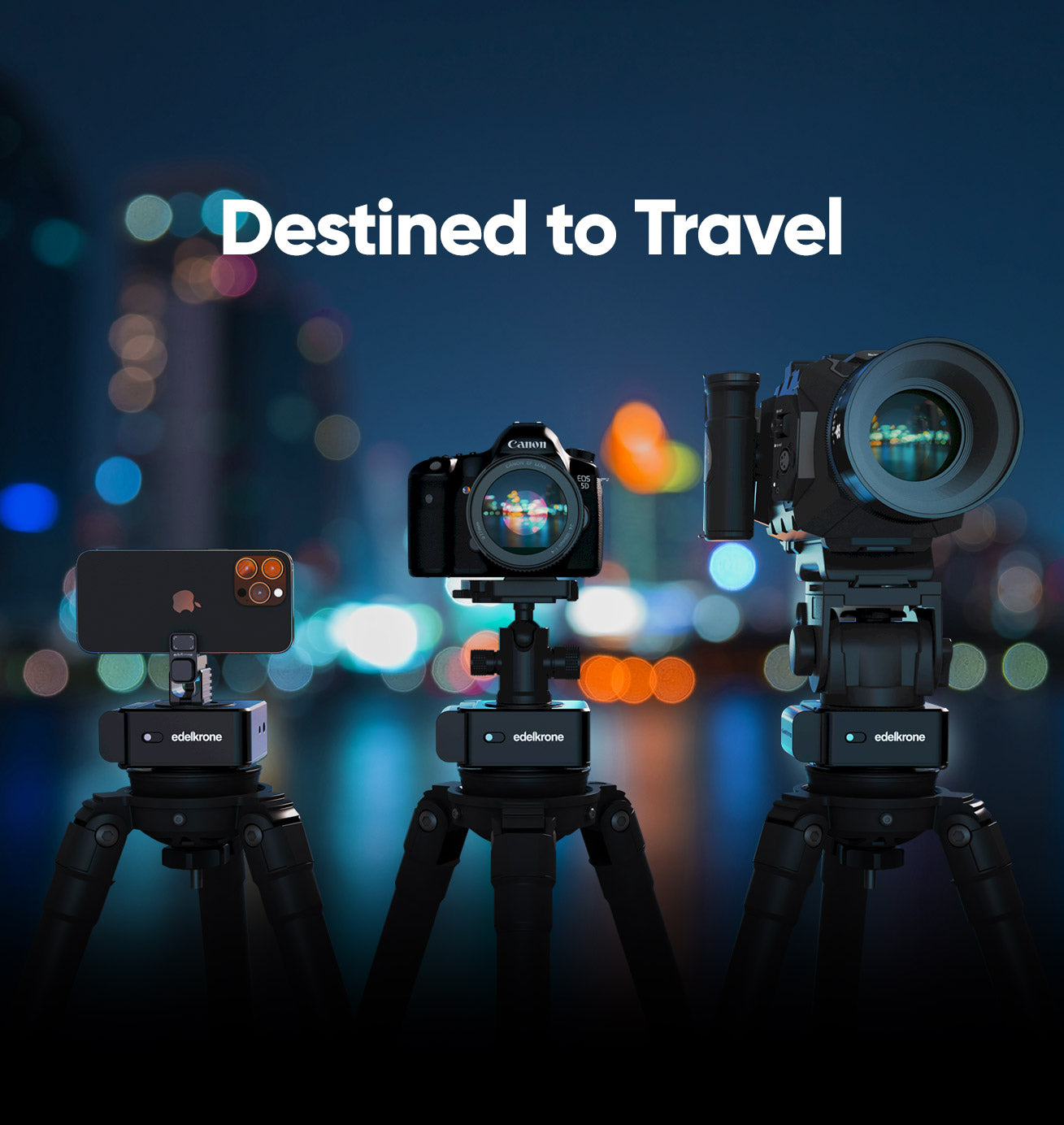 Size (L x W x H)
3.90 x 3.75 x 1.87 in (99 x 95 x 47.5 mm)
Recommended camera load Pan / Tilt
10 lb (4.5 kg) / 5 lb (2.2 kg)
Mounting options
3/8"-16 mounting screw on top. 3/8"-16 mounting port on bottom. (3/8"-16 to 1/4"-20 reducer bushing for mounting port are provided.)
Motor type
Step motor with ultra high-res encoders.
Power input
Requires x1 Canon LP-E6 type battery to operate. Battery bracket included. Battery NOT included.
Battery life
With 14.4 Wh energy (1 Canon LP-E6 battery is 14.4 Wh)
Operates 3 hours (continuously at full speed)
Shoots 15000 photographs (in Time-Lapse mode)
Shutter trigger cable socket
2.5 mm (shutter trigger cable sold seperately)
Can be paired with
SliderONE v2&v3, Motor Module (Previously known as Slide Module v2 / v3), DollyONE, and DollyPLUS
Mobile device connection
2.4 GHz direct link for inter-device communication and BLE for pairing / mobile phone connection
App. compatibility
iOS 11.0 or later & Android 5.0 or later
Materials
CNC machined aluminum & stainless steel components.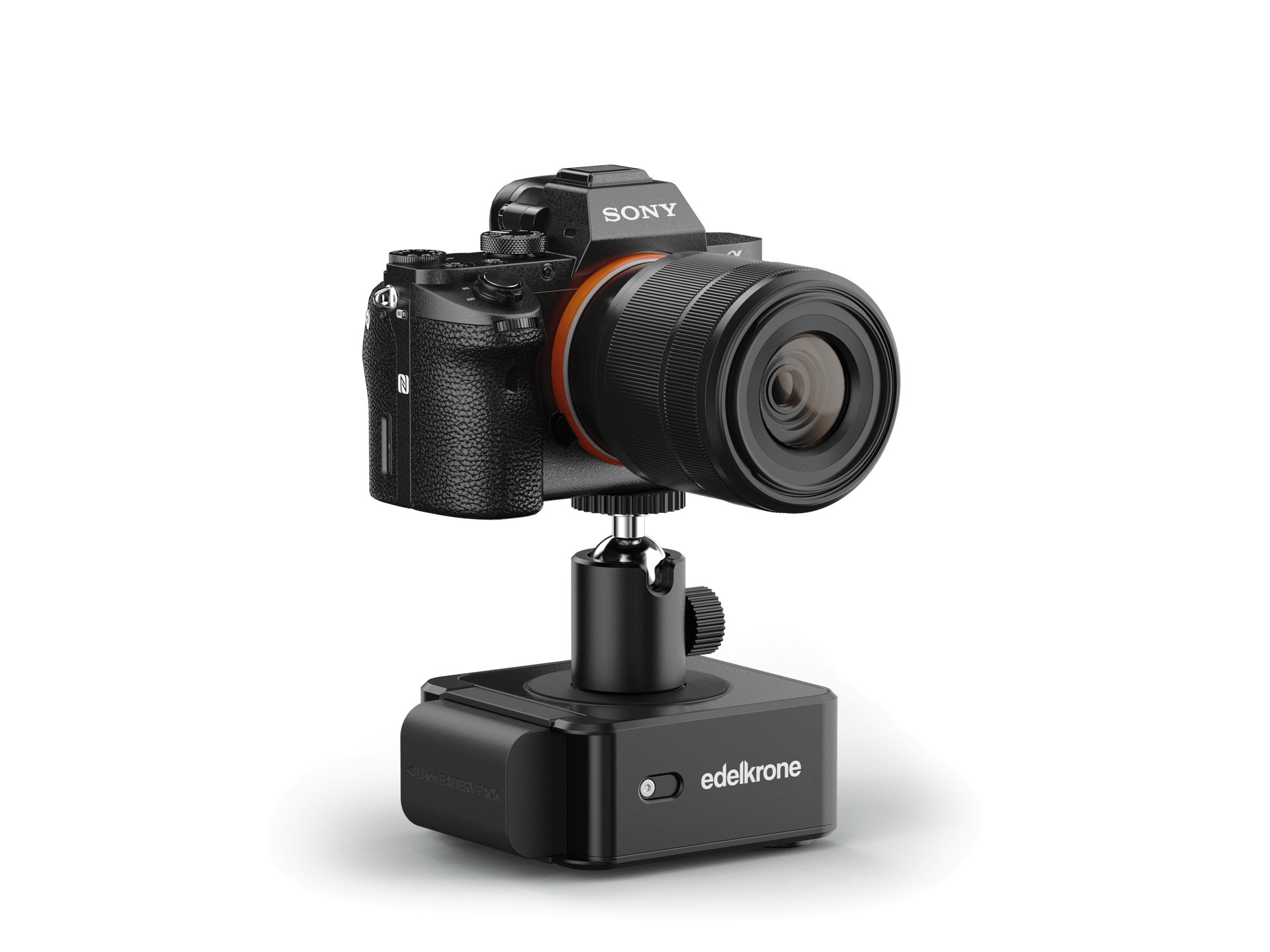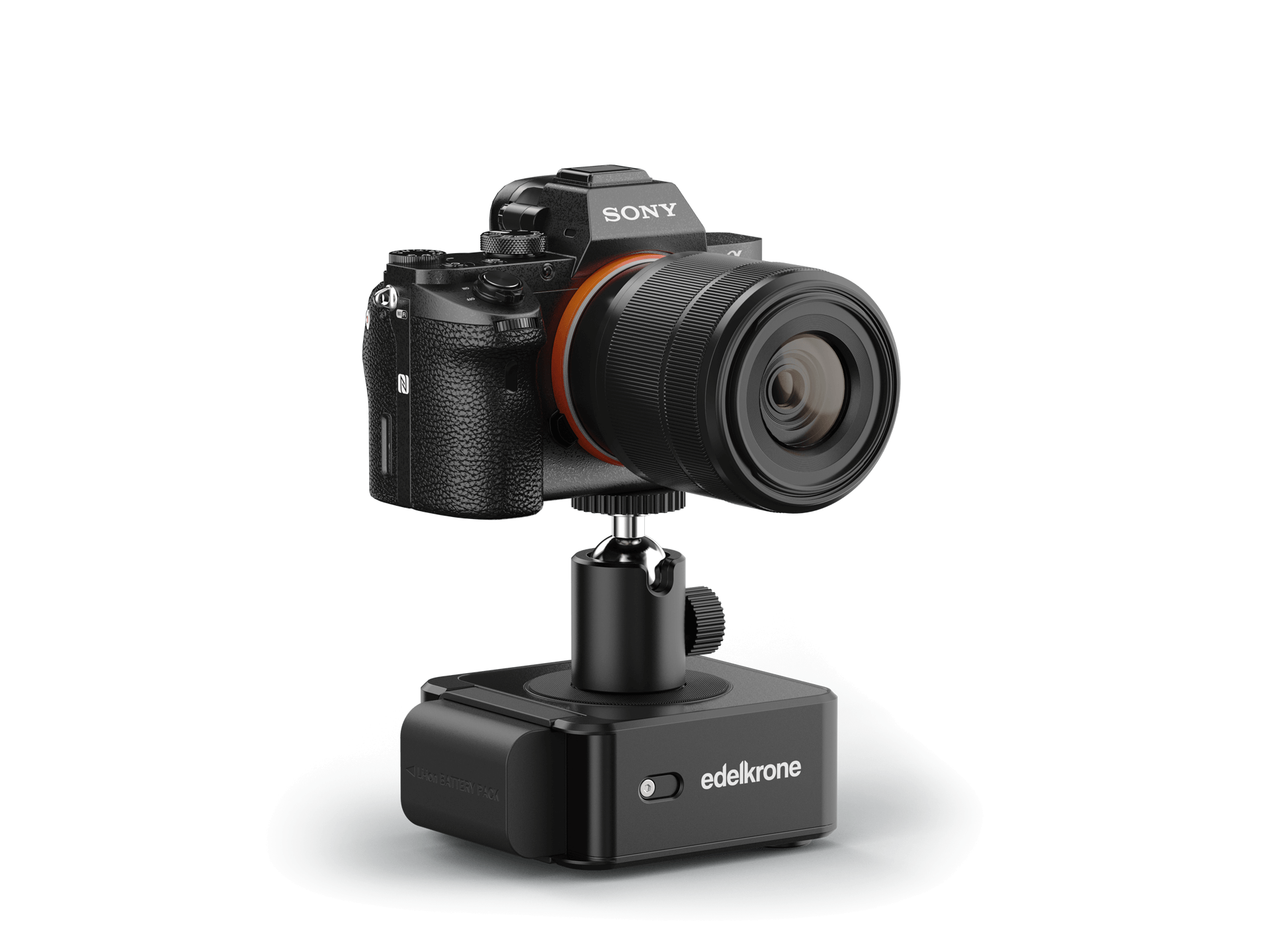 HeadONE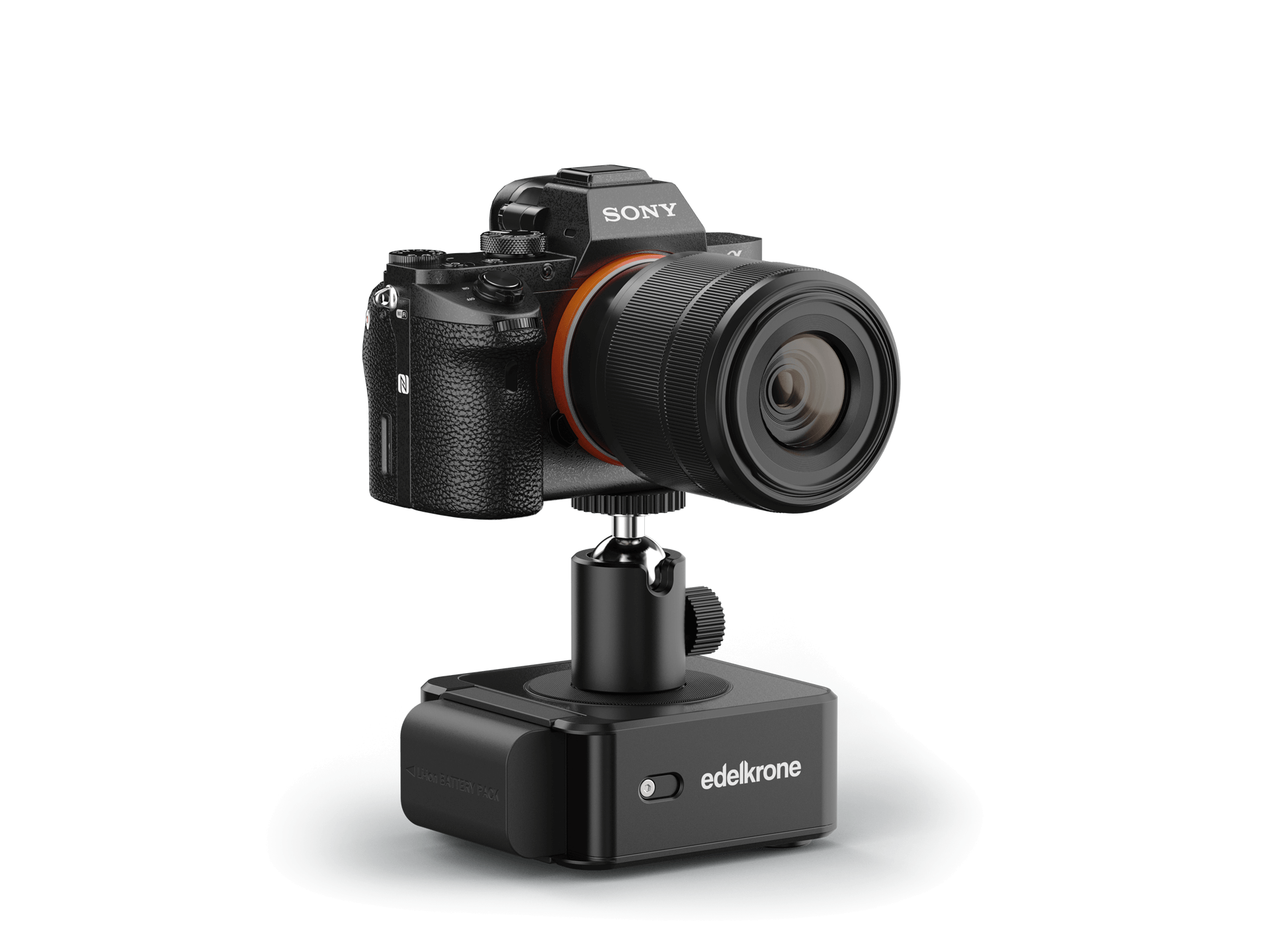 HeadONE
Sale price

$399
Regular price
(/)